Our friends are officially hooked on camping and joined us a second time. It's been awhile since we have explored a new campground and were excited to check out the sights at Van Damme SP.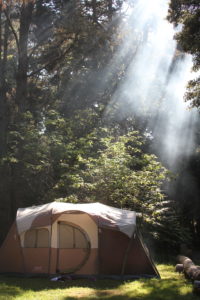 Van Damme SP – July 2017
Rating: 5 out of 5
Location: Located just south of Mendocino off of Highway 1
Amenities: Flushing toilets and showers ($1 for 5 min).
Cell Service: No
Pets: Allowed for no additional charge.
Sites: 59 and 61 (Other sites worth reserving are 44, 45, 46, 51, 52, 56, 58, 59, 61, and 63. Sites 45 and 46, 61 and 63 are perfect for reserving adjacent sites.)
Pros: Sites along the loop (40-74) are the only sites that we explored. The sites along the outer loop are more private and are canopied by redwood trees while the sites along the inner loop are more open. Inner loop sites back up to a large meadow where kids can run and play and are quite big (at least two large tents can fit on each site). Much like MacKerricher, the campground is in a prime location to use as a home-base to explore the coastal areas of Fort Bragg and Mendocino. Although there isn't direct access to a beach from the campground, a short drive across Hwy 1 from the park leads to a beach where you can arrange in advance to go on a kayak tour.
Cons: The showers were a bit far from most sites and warm water was hit or miss. The sand at the nearby beach is course so it's not the best beach for kids to build sandcastles but still worth a visit.