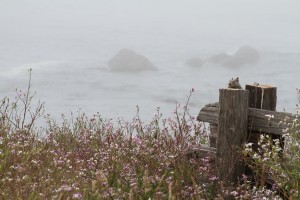 Ever since we started camping, we've been talking about making a trip to MacKerricher SP!  We finally pulled our act together and booked the trip as soon as the season began!  Who needs fireworks on the Fourth of July when you have the Pacific Ocean at your feet!
MacKerricher SP – July 2012

Rating: 5 out of 5
Location: Located in the heart of Mendocino County a few miles north of Fort Bragg
Amenities: Flushing toilets and showers
Pets: Allowed at no additional charge
Sites: 132 and 133 (138 and 139 are also great spots)
Pros:  There are many campgrounds within the park.  Surfwood is the closest to the ocean and is where we enjoyed our stay.  A short walk from the campsite and you arrive at the beach.  A wooden boardwalk begins at the cliff and meanders along the side of the cliff to provide breathtaking views of the Pacific Ocean.  If you're the adventurous type, you can ditch the boardwalk and walk down to the water's edge to experience the many tide pools.   The boardwalk leads you to Laguna Point, which is where you can spot harbor seals sunbathing on an island and spot pelicans soaring in the air.  Squirrels are also scampering around the boardwalk and are quite entertaining to watch.  The campground is located within the heart of Mendocino County, so if you get bored with the ocean, you can visit the nearby cities of Fort Bragg and Mendocino.  Noyo Harbor is another fun place to visit.  You can watch fisherman unloading their catch, rent kayaks, go fishing, and grab some fresh oysters.
Cons:  Sites are quite small and are pretty open from the street.  We were lucky and had some blackberry bushes to hide us while other sites were fully exposed.  Bathrooms weren't the greatest nor cleanest.   Don't be alarmed by the brown water…it is recommended that you bring plenty of drinking water!  Even though there we had some cons…the pros definitely outweigh the cons!  We will definitely be back!!!